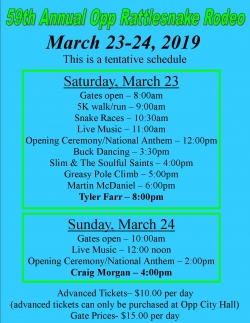 The Rattlesnake Rodeo is getting ready to host its 59th annual event this weekend March 23-24. With country music stars Tyler Farr and Craig Morgan, the event is bound to be a good one.
Some activities at the rodeo include buck dancing, snake racing, and greasy pole climbs.
The last unknown piece to fit into the puzzle is the weather cooperation. As predicted recently, Saturday only holds a ten percent chance of rain and Sunday has a zero.
The Rattlesnake Rodeo is held in Opp, Alabama and a great family activity.